Skin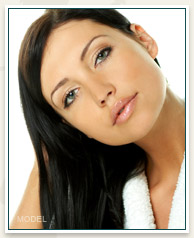 If you believe there are more non-invasive skin rejuvenation procedures available than ever before—you're right. Not only that, they continue to grow in popularity every year. In fact, according to the American Society of Plastic Surgeons, the top three treatments—BOTOX® Cosmetic, injectable fillers and chemical peels—accounted for over six and a half million procedures in 2007, up more than 10% over the previous year.
It's easy to understand why these options are popular with residents of Seattle seeking facial rejuvenation—they work. What's not so easy is to figure out which treatment or combination is best for you. At Swedish Plastics and Aesthetics board certified plastic surgeon Dr. Wandra Miles invites you to come in and meet with her to learn more.
Dr. Miles has carefully chosen the most effective facial rejuvenation treatments. Your program will be designed for you alone; to meet your specific, individual needs. You may benefit from:
Skin Solutions from Dr. Miles
You have probably already discovered that even the most expensive department store "remedies" just don't work. They simply can't penetrate deeply enough to be effective. Prescription-strength and physician-only treatments through Dr. Miles can make a visible difference in your looks with minimal discomfort and downtime.
A more youthful appearance can enhance your self-esteem and self-confidence. And a board-certified plastic surgeon has the knowledge to help you make decisions that fit your skin and your lifestyle. Dr. Miles looks forward to working with you now, and should your needs change as time passes she'll be there to provide additional options for you. She can even tell you about the possibilities for facial plastic surgery for a more dramatic improvement.
Dr. Miles serves men and women in Seattle and Alaska, and she works with patients from Tacoma, Olympia, Bellevue and other nearby communities. If you'd like to discuss a skin rejuvenation program with her, request an appointment online or call 206-215-6221.