Liposuction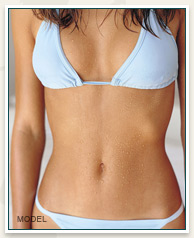 Even people who are healthy and active choose liposuction surgery in Seattle, WA to refine their bodies. After all, much about your physique is genetically determined, such as the way fat is distributed. That's why, for most people, even a sound diet and exercise program won't do much to reduce love handles, saddlebags and tummy pooches. If you have one or more of these areas of stubborn fat, you may want to consider liposuction with Dr. Wandra Miles. A board-certified plastic surgeon, Dr. Miles performs liposuction to resculpt those difficult areas and give you a body that reflects your lifestyle.
To find out more about liposuction, request your personal consultation with Dr. Wandra Miles at her office in the Cabrini Medical Tower downtown. She also works with patients in southern Alaska. She'll be glad to examine you, hear your goals and talk you through your decisions.
Is it Right for You?
Good Choices for Many Active Women & Men
The best candidates for liposuction surgery are near their ideal body weight with good skin and muscle tone. If a bulging abdomen is caused by lax muscles and stretched skin, a tummy tuck may be the best choice. Dr. Miles cautions that although the procedure is not a solution for obesity, even relatively large pockets of fat can be removed with liposuction. "Areas like the outer thighs and the lower abdomen are particularly good targets," she says. She can also resculpt the hips, back, upper arms, knees and chin with one or more techniques.
When you're considering plastic surgery, it's important to have an objective view of your physique and reasonable expectations about the outcome. Liposuction can get rid of problem bulges that have bothered you for years, but it won't dramatically change the overall look of your body. And though the fat removed will not come back, liposuction won't prevent you from having new trouble spots if you should gain weight in the future. If you have a healthy self-image and reasonably good skin tone, liposuction could be a good choice for you.
When you decide on liposuction for body contouring, make another good choice by selecting a skilled Seattle liposuction surgeon. As a highly-trained, experienced, board-certified plastic surgeon, Dr. Miles plans procedures for her patients that yield satisfying results and the utmost in safety. When you meet her you'll appreciate the way she listens to you, learns about your priorities and develops a procedure that's just the right fit. For more information about liposuction, review Dr. Miles' Liposuction FAQ page.
Liposuction Techniques
Tumescent, PAL & More
For most men and women interested in body contouring, tumescent liposuction is the foundation of Dr. Miles' approach. She injects a solution containing an anesthetic into the tissues, helping her safely and comfortably remove deep fat with precision. In many cases Dr. Miles also uses power-assisted liposuction (PAL), a method that employs a narrow tube called a cannula that gently vibrates to loosen fat, shortening procedure time.
To access areas of the body where the utmost in control is needed, Dr. Miles uses a hand syringe and light pressure to remove fat. "The syringe is a good approach for areas where machine-based liposuction might be overly aggressive, such as small pockets of fat near the surface," explains Dr. Miles. The hand syringe allows Dr. Miles to address fat deposits in the neck, for example, and to put the finishing touches on her traditional liposuction procedures.
After Liposuction
Recovery & the New You
After liposuction surgery, you'll be up and walking around following a brief recovery period. You'll go home the same day, wearing a comfortable compression garment to help reduce swelling and provide support for the treated areas. You'll wear the garment around the clock for about two weeks, then for another couple of weeks when you're active.
You can expect to experience some soreness after the procedure. Most men and women find they can stop taking medication within a few days and return to work in about a week. If your liposuction was performed as part of another procedure such as breast reduction, your recovery period will likely be longer.
Most patients are pleased with the outcome of their procedure, delighted to see smooth skin where rolls and pooches once refused to budge. Occasionally a patient will return for a touch-up after liposuction, if an unexpected dimple or indentation should result. This happens in just a fraction of cases.
Dr. Miles works with patients in Alaska, Tacoma, Olympia and Bellevue seeking liposuction. If you'd like to find out more for yourself, request a consultation or give us a call at 206-215-6221.