Mommy Makeover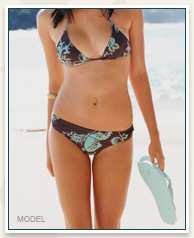 Pregnancy and motherhood can be some of the most exciting and rewarding milestones in a woman's life, but women often spend so much time caring for others that their own needs and desires go neglected. If age, pregnancy, or lifestyle changes have affected your body in ways that aren't fixable with diet and exercise, then a customized mommy makeover in Seattle with board-certified plastic surgeon Dr. Wandra Miles can help.
As a woman, Dr. Miles is acutely aware of how women's bodies change throughout their lives. She believes that feeling good about your looks is an important step in the development of your own self-worth. "When we feel good about ourselves, we can better care for the precious friends and loved ones in our lives," she says. A mommy makeover can be customized to suit the needs of the patient, addressing her specific areas of concern.
If you've been considering a Seattle-area mommy makeover or other cosmetic procedure, request a consultation with Dr. Miles online, or call our office at (206) 215-6221.
Mommy Makeover Surgery
Not Just for Mommies
Despite its name, mommy makeover surgery can be a good choice for anyone who wants to target multiple areas of the body in one procedure. Typically, mommy makeovers improve the look of sagging breasts, excess skin around the abdomen, unwanted fat deposits in the hips and thighs, and stretch marks. These results can be obtained through a series of surgeries, including liposuction, breast lift or augmentation, and tummy tuck at Swedish Plastics and Aesthetics.
Though the results of a mommy makeover can be dramatic, Dr. Miles believes her patients should be fully informed throughout the entire process.
"You will have scars," she says. "But they will fade significantly over time. If you carefully follow your doctor's post-op instructions, your final results will be maximized."
After Your Mommy Makeover
What to Expect from Your Improved Look
Dr. Miles recommends giving yourself plenty of time to rest and recuperate following your mommy makeover surgery. Depending on which surgeries were performed as part of your procedure, recovery times and experiences can vary. Dr. Miles will provide a comprehensive post-op plan based on your specific procedure. Women who receive breast enhancement or implants in Seattle may require additional follow-up care.
"Because a mommy makeover includes several procedures at once, the time spent on both surgery and recovery is longer than it would be with just 1 procedure," Dr. Miles says. "It's important that you have a friend, spouse, or relative who is willing to help you with chores, errands, and childcare for at least a week following the operation."
You'll likely be fitted with a compression garment to reduce swelling and provide support. Drains may also be inserted at the incision sites to reduce fluid buildup. It's important to keep these items in place until your surgeon removes them at a follow-up appointment.
Discomfort for several days after a mommy makeover is normal and can be managed with prescribed medication. You may feel fatigued and have trouble standing or walking during this time. Dr. Miles encourages her patients to refrain from any activities if they don't feel ready.
"Straining yourself too soon after your surgery can damage your results and cause excessive bruising or other complications," she says. "Don't be afraid to ask for help."
Your new physique should be visible within several weeks, and, with a healthy lifestyle, it can be maintained for years.
Dr. Miles performs mommy makeovers on patients from Seattle and other Washington cities. To find out how you can help restore your body with a mommy makeover, request a consultation online, or call her office at (206) 215-6221.